Santa gunman in Christmas Eve massacre owed thousands in divorce, planned escape, not suicide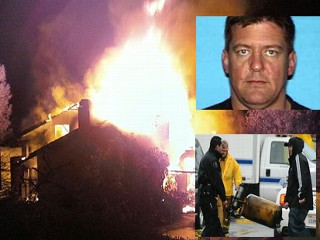 Investigators seeking further information about Pardo's motives have begun searching his home in the suburban Los Angeles community of Montrose.

(ABC/AP Photo)
A man who carried out a Christmas Eve massacre and arson dressed as Santa at the home of his former in-laws apparently intended to flee the U.S., but his plans were dashed after the inferno he created severely burned his arms and melted his red costume onto his body, police said Friday.
Bruce Jeffrey Pardo, a laid-off aerospace worker, apparently shot some of his nine victims execution-style in a plot to destroy his ex-wife's family after a costly divorce that was finalized last week. He had an airline ticket for a Christmas morning flight to Canada and $17,000 in cash on his body, some attached to his legs with plastic wrap and some in a girdle, Covina police Chief Kim Raney said. He did not know the Canadian destination.
Armed with four guns, wearing the Santa suit and carrying a fuel-spraying device wrapped like a present, Pardo showed up at the home at 11:30 p.m. Wednesday as a party of about 25 people was under way.
Raney said
Pardo, 45, fired a shot into the face of an 8-year-old girl who answered the door and at first fired indiscriminately, then apparently targeted relatives of his ex-wife as other guests fled.
"There's some information that he stood over them and shot them execution-style," Raney said.
Pardo retreated to the front door and retrieved a device that mixed carbon dioxide or oxygen with high-octane racing fuel, police said. Fleeing guests saw him spraying the fuel inside the house when the vapor was ignited, possibly by a pilot light or a candle, and exploded.
"Mr. Pardo was severely injured during that explosion," Raney said. "He suffered third-degree burns on both arms and it also appears that the Santa Claus suit that he was wearing did melt onto his body."
Pardo was able to drive to his brother's home in the Sylmar area of Los Angeles, broke in and shot himself in the head. His brother discovered the body early Thursday.
Before the suicide, Pardo used remnants of the Santa suit to booby-trap his rental car to explode, the chief said.
Raney said Pardo wired the suit so when it was lifted it "would pull a trip wire or a switch, ignite a flare inside the car that would then ignite black powder and he had several hundred rounds of handgun ammunition inside the car."
Source:
http://abcnews.go.com
- The

bully Nation

have create a weak people that will explode in angry. YOU will see the End of the

bully nation
.
myLot User